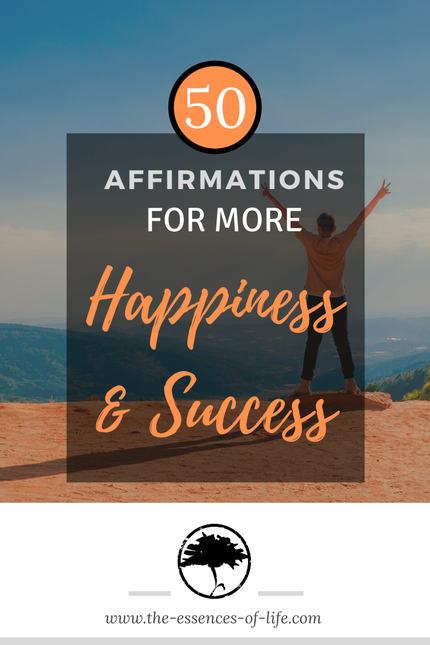 »There are flowers everywhere for the one,
who wants to see them.«
 - Henri Matisse -
Groundhog day! In the famous movie with Bill Murray, he plays a reporter, who always experiences the exact same day, until he manages to win this one woman for himself. It is very amusing to see how he tries something different every time to reach his goal. The same goes for us and our goals. You can think about them, but soon you'll forget or do not put enough focus on them. If we feel powerless, insecure, unmotivated or not concentrated enough, we have to remind ourselves daily with affirmations to get this positive push again to be successful.
 What are affirmations?
Affirmations are short sentences that we should keep telling ourselves, like a mantra, so that they will lead us to our personal success. They work like an encouragement, only that it comes from yourself and not from another person. You should read them daily and then embrace them.
You make positive statements about yourself and this faith helps you to overcome obstacles or to become better in something. You can write down affirmations and distribute them as Post-It all over your place, put them as background on your PC or Smartphone or you can consciously include these affirmations in your meditation.
The important thing is that you choose these affirmations in a way that they are most beneficial to you. So if you feel insecure about conversations, an affirmation such as "You're great with money!" will bring you very little benefit. You need one like: "You are confident and strong!"
The goal is to repeat these affirmations until you believe them yourself. Because that is the way to success! If you think of yourself as a loser, how do you want to win? NO! "You are a winner!" This may sound a little exaggerated or even ridiculous at first, but with time you will believe it and your actions will be based on it. 
This is not wishful thinking, but a positive conditioning to a certain result! And you can achieve it! Pick out the affirmations that suit you the most and remember them daily and be amazed about your success! 
How long should you practice affirmations? A lifetime and always adapted to your wishes and goals!
Good luck!
50 affirmations for more success & happiness:
I'm a WINNER!


I am intelligent and smart. If I don't know something, I can learn it.


I have a dignity and will not tolerate bad behavior or humiliation.


If I believe in my goal firmly enough, then I can achieve it.


Success is waiting for me, I just have to grab it.


Nobody gives me anything, I have to do something myself.


I can gain something positive from every situation.


I am independent and can take responsibility for my life and my actions.


I love myself.


I'm a WINNER!


Every day I learn something new.


Life is good to me.


I am grateful for the people around me.


I remain calm and objective in conversations.


I don't treat others in a patronizing or insulting way.


I am responsible for my success.


If I don't like something, I have the power to change it.


I'm an active person and treat my body well.


I remain true to my own chosen principles and act accordingly.


I'm a WINNER!


Others won't manipulate me or influence my views, if I do not want them to.


I am worth to be loved.


When I am afraid of something, I'll face this obstacle.


During conversations I keep eye contact and don't look away.


I don't compare myself with others, but measure my success by the things I have achieved for myself.


I work hard for my goals.


I have all the necessary skills or can learn them to reach a goal.


I am a role model to others.


I no longer complain, but change the things that bother me.


I'm a WINNER! 


I will definitely achieve my goals.


The reins over my life are in my hands only.


Energy and joy fulfill me today.


I treat others and myself with respect.


I have talents that I will use.


I get rid of bad habits and get used to good ones.


I recognize my own self-esteem, because I am enough.


My posture is upright and confident.


I forgive other people, especially my parents.


I'm a WINNER!


My health problems and physical limitations will not stop me. I will overcome them.


I have the opportunity to give my best every day.


Today I achieve everything I set out to do.


My partnership is strong, because I am constantly working on it. / I will find the right partner.


I banish negative thoughts from my head.


I like to share what I have, because I am kind.


If I acknowledge my value, others will do the same.


I am happy because everything I need, is already in my life.


I am my own hero.



I'm a WINNER! 
Conclusion:
Take what you need and repeat these affirmations daily. You can also use them as templates and customize them for you and your needs. It is also possible to combine several affirmations into one short text. E.g. "I am worth being loved, because I am enough and today I will achieve all my goals, because I'm a winner!"
That's right, you are a winner! Remember it as often as possible and you will act accordingly. Then the next time you're faced with a decision, ask yourself: "What would a winner do?" Feel the positive energy that affirmations give you. Because what you put into your head, you can also put into practice.
I hope the article was helpful for you. If so, please share it, so others like you can benefit from it. I wish YOU the best.
-LdR-
Related articles that might interest you:
Do you want to read more? Then visit the blog, with all available articles.