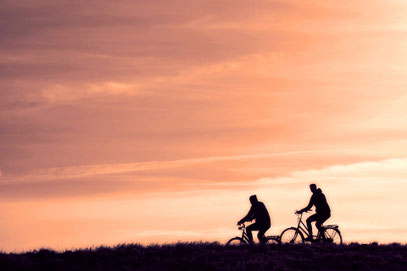 You heard right. If you exercise, you are 10 years younger than if you don't. Your muscular system, your joints, your central nervous system and your cardiovascular system; everything is stimulated and works better for people who exercise. Up to 10 years better! Isn't that a thing?!
That's not magic, but scientifically proven and plausible in every way. As they say so nicely: "A rolling stone gathers no moss!"
No one ever said, you have to spend a lot of hours working out every day like a fitness freak. The World Health Organization (WHO) recommends about 150 minutes of sport per week. That's a good 20 minutes a day. Lack of exercise is one of the main reasons why people with increasing age get metabolic diseases, joint and muscle problems, cardiac insufficiency etc. Many illnesses and complaints can actually be counteracted by physical activities. Of course not everything, sport is no magic, as I said before. It's a helping hand with many, many benefits.
I just noticed very often, that especially older people lose their mental and physical strength very quickly, when they stop moving/going out or do any other physical activity. For example, they were physically fit and mobile at first, then they stop (because of an illness etc.) and suddenly they start to have problems with their knees or any other restraints; cycling and walking are no longer possible and they feel much older after a short period.
The secret: Most people who have grown really old, do this two things regularly:
Eat well and healthy
Move constantly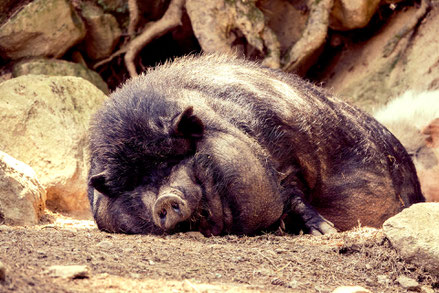 Exercising for 2.5 hours or 150 minutes per week have been shown to promote these positive effects. And not only older people, but also young fellows benefit greatly from it. 
Children who do not exercise enough, will suffer more often from back and posture problems later on. The more sport you do in your youth, the more active your cardiovascular system and metabolism will be as you get older.
As you can see on the top right, a lazy pig is pictured there. Whether it is really lazy, I cannot tell and I don't want to offend any pig lovers. Probably it only sleeps. But at least it seams lazy. And the mindset of many people, regarding a physical activity, seems to be exactly like this pig.
Nevertheless the "inner temptation" and the "weaker self" are the metaphors of lazy people. And this is exactly the reason why people activity fail to workout. People are too lazy. You have to start being active. Step by step. Start light and do more over time.
A nap is a great thing, but you still need to get used to move regularly. Older people should at least go out and have a walk. Any physical activity is a benefit for the body. I can only advise you, to get more active in your life.
Examples for physically fit people:
2-3 times a week sports (fitness, swimming, yoga, jogging, etc.)
Cycling to work
Take a quick walk every evening
Taking the stairs
Walking instead of driving
Dancing
There are many possibilities. Start slowly and get used to it. Maybe you stop the time and always try to reach 150 minutes each week. Any type of exercise, unless it is dangerous or harmful, is good for you. You will notice after a few weeks what a positive effect it will have for you. Take your health into your own hands. At least for the part you can influence. I wish you a lot of fun and success.
If you don't know how and where to start, then read THIS!
-LdR-
---