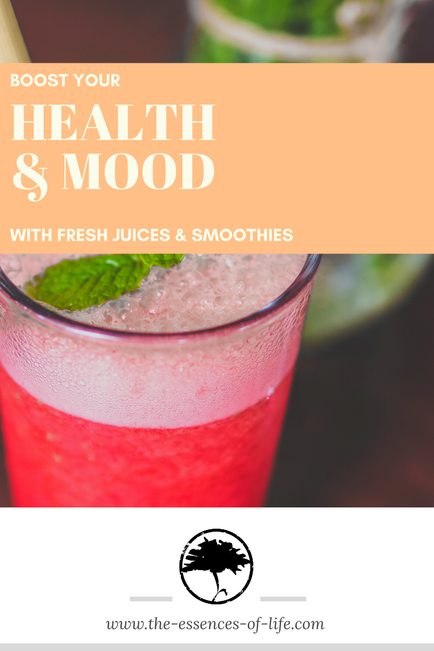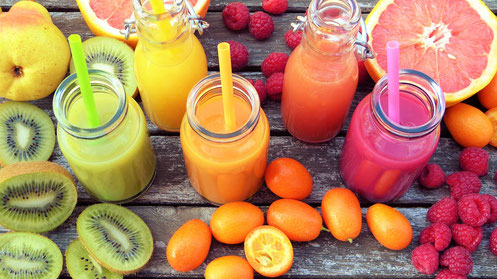 Everyone knows that fruits are healthy. In the form of juice, you can perfectly mix several varieties or even vegetables and obtain all the advantages at once.  By juicing, the fruit loses only the fiber, but not its vitamins or components. So you can confidently replace your fruit with a juice, but only if it still contains all the healthy substances.
So buying juice or squeezing yourself is the question ?! 
This is exactly where the crucial point lies. Freshly squeezed juice is usually only available in a café or juice bar. The supermarket is probably the worst place to get your juice. Of course it is available in all shapes and colors, but you should pay attention to this:
When juice is stored, it loses its healthy ingredients through light, oxygen and heat. The longer it is stored, the less vitamins it contains. So if you only drink juice from the supermarket, then you should at least go for those with 100% juice content. This is probably where the most vitamin can be found. But actually also much too little or almost nothing. Nectar and syrup drinks usually have very little fruit content and only a lot of sugar. These do not bring any health advantage at all. If you want to buy packaged juice for the taste then gladly do it, but health benefits, which the packaging promises, are usually not given anymore. That's just marketing.
So if you really want to get your health back on track, I recommend a juicer or blender. It's probably easiest with the juicer. Throw everything you like in and drink it. With the mixer you rather make smoothies, because the whole thing is pureed. A little trick is, when you use a blender, to pass the juice through a strainer. So a part of the pieces will be filtered. With a blender all the fibers remain in the smoothie, which is good.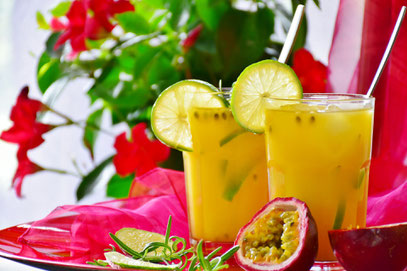 Ginger or berries are excellent and contain many antioxidants. You can cover almost your entire daily vitamin requirement with a glass of juice if you mix it properly. The ingredients in fruit and vegetables can lift your spirits and improve your health. It can also benefit your immune system and digestion.
You will often come across articles that tell you how healthy certain fruits, nuts or vegetables are. Interesting that something like that still surprises us. But we should know that everything from nature, if not full of pesticides, is healthy and that a hamburger is not bursting with vitamins and minerals.
And what could be nicer than Sunday morning, in addition to coffee, a nice glass of freshly squeezed juice to drink. Or in summer as a refreshing drink. Even a cocktail with fresh juice tastes even better. Yes, juice or fruits contain a lot of sugar, but it can't be compared to a Coke or similar things. Thus you have the good vitamins. Your body really needs them to function well. So with every meal you eat, add one piece of fruit or drink one glas of fresh juice a day to cover your vitamins.
What I'm telling you here you probably already knew. I just wanted to mention once more that you should drink your juice fresh. Even if you press it yourself and put it in a carafe in the fridge, it will lose more than half of its vitamin content after just a few hours. So always drink fresh!
Here are two of my favorite recipes. Of course you can leave out or add any ingredient as you like: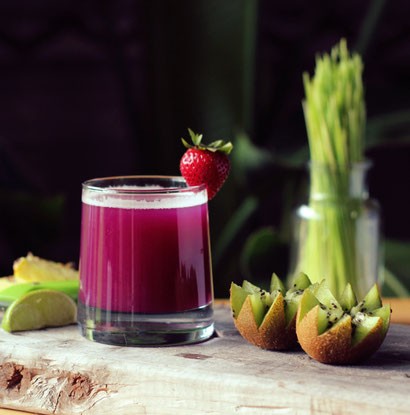 Detox-Vitaminbomb approx. 0,2 liter
Ginger (quantity according to mood and desire. The more the spicier)

1 green apple

1 kiwi

5-8 strawberries or 10-12 raspberries

0.5 Avocado
Wash, destem and remove the seeds from everything and then put into the juicer or mixer and serve with a slice of green apple or strawberry.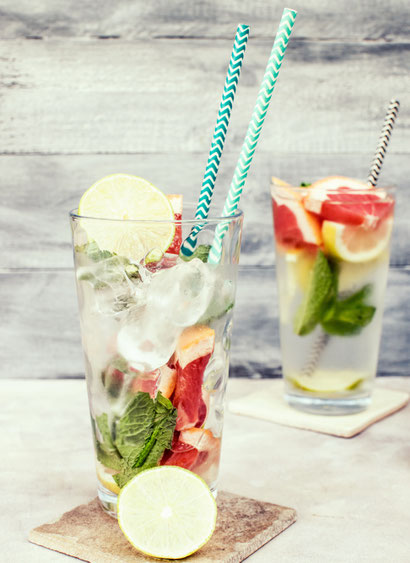 Summer-Refreshment approx. 1 liter
1 grapefruit or 0,5 pineapple squeezed

1 litre sparkling water (or non-carbonated)

1 tablespoon brown sugar or honey

A bunch of fresh mint leaves

1 lemon

Ice cubes
Wash the mint and cut the lemon into slices and place in a glass bottle or carafe with the mineral water and put in the fridge for at least an hour. 
Now take out the lemon-mint-water again. Squeeze the grapefruit fresh and stir into the water together with the honey/sugar. Serve with ice cubes.
Enjoy and stay healthy!
- LdR -
---