"I have noticed even people who claim everything is predestined,
and that we can do nothing to change it,
look before they cross the road."
- Stephen Hawking - 
You didn't like the movie? Still read this article! It's about life, not just the film!!! ;-)
Mr.Nobody - what a beautiful film that tells the story of a 118 year old man (played by Jared Leto) who is the last mortal man on earth. The old man, Mr.Nobody, tells and indulges in memories of his life. But every memory is different and depends on the decisions he has made in life. Every memory is an alternative life, which is different according to the chaos theory. To put it simply, the film is about the question: "What if?"
I think it's a film worth seeing that says a lot about life. Beautifully told with great staged pictures. But I don't want to discuss the film, but the principle behind it and all the possibilities that open up in life.
How do I know if I'm making the right decision?
You control the course of your life with the choices you make. And that every day. It is entirely up to you whether you remain seated where you are sitting right now or stand up and walk somewhere else.  All the people you have ever met, your behavior patterns, even your birth, are all just coincidences based on each other. Anything is possible. Parents have already put this into the cradle of their children. "When you grow up, you can become anything you want." 
Anything? Everything at once certainly not. But if you pursue one thing with persistence, then the chances of success are very good. Everyone has a hidden longing somewhere. But this is often suppressed because of social, health or financial reasons. But mostly it is FEAR that keeps us back.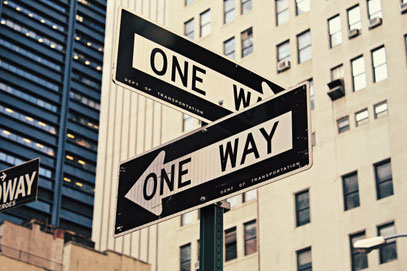 We're afraid of making the wrong decision. "What if I had said this or that? Would everything be different? What would have happened if?" We are afraid to regret, afraid to make mistakes. 
Whether it was a mistake, we can all only determine afterwards. You thought this was the perfect course of studies for you, but now you don't like the job as much as you had hoped? You broke up with your husband for another man, but in the end it was just a short-term romance? Now they are both gone.
Remember: Everyone regrets something.
But all in all, you have to consider one thing. The past cannot be changed, no matter how hard you try. Focusing your thoughts on new goals is the key to a successful and happy life. If something is not the way you want it to be, change it. If a relationship ends because you fall in love with someone else, then there was probably something wrong in the first place. Then it is unnecessary to imagine: "What would have happened if I'd stayed?!" Stop that! Look forward and direct the ship where you want it to go. 
You have to be flexible and get used to new things. Be satisfied with what you have, but don't be too shy to change something if you are totally uncomfortable with it. Everybody is the creator of his own luck, so take off the blindfold. Positive thoughts lead to happy actions. Don't regret too much, but change your future today.
Remember: You cannot influence the past! And the future can only be changed through decisions you make in the present.
At this point, I want to share one of my favorite quotes with you.
"The clock is running. Make the most of today. Time waits for no man.
Yesterday is history. Tomorrow is a mystery. Today is a gift.
That's why it is called the present."
 - Alice Morse Earle -
PS: It can be helpful for you if you make decisions that affect your life, but only if you know exactly what you want in life. Read my article How to find out hat you really want in life
What is you biggest regret? What would you change? And what will you change, to turn it to the better?
Let me know in the Facebook-Group.
- LdR -
---